Smooth transition for Bauta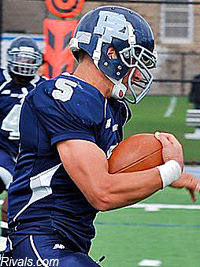 Rising senior
Faton Bauta
has definitely seen his share of change over the past year or so. The 6-foot-3 and 225-pound quarterback played his junior season in the Brooklyn, N.Y., area before moving to the state of Florida. And it didn't take long for Bauta to reap the benefits of playing football in the South.
Bauta played running back and linebacker last year, totaling 540 rushing yards with seven scores and 62 tackles. But this year he will line up at quarterback for Dwyer High School in West Palm Beach, Fla.
"The move has actually gone very well and it's been a smooth transition," said Bauta. "My recruitment has really picked up since I got down to Florida so that was huge. I also got to play spring ball at my new school and spring ball was something new for me. I love the way the high schools in the South get to experience spring ball and that is a major advantage over northern teams. That is why the South produces so many better players because they work year-round."
On Monday, Bauta made his first trip to Mississippi State and participated in the Bulldogs' camp. He was one of the top standouts on Monday as he displayed his strong throwing arm and his solid speed (4.56). Last week, Bauta competed in LSU's camp and will be at Alabama today. He has also camped at Florida and Miami, and has already collected double-digit offers.
"I thought Mississippi State's camp went real well," said Bauta. "I had a great time throwing in front of their coaches. I thought they have a beautiful campus and it is a beautiful place and I saw a lot of nice things. It was also really good to practice with coach
Dan Mullen
and let him see me throw the ball and I thought I threw the ball well."
Bauta added that he also received some helpful tips from MSU offensive coordinator
Les Koenning
"I got to talk with their offensive coordinator a good bit and he liked how I was throwing the ball and how smooth my release was," said Bauta. "He corrected me on some things to help clean up my passing. So we communicated well and that was a positive thing."
Bauta has received offers from the likes of Alabama, Kentucky, Vanderbilt, Miami, West Virginia, Boston College, Maryland and Louisville among others. And he's hoping to add to that list in the near future.
"I have about 11 offers so far," said Bauta. "I would say Alabama, Utah, West Virginia, Kentucky, Vanderbilt and Boston College are sticking out. And if Mississippi State offers, they would definitely jump up there with my favorites.
"But right now I am just taking my time and going to camps to see if I pick up a few more offers. I was hoping to make my decision this summer but that may not happen. So it will likely be mid-way through my senior season or after my senior season."