{{ timeAgo('2021-01-12 14:31:39 -0600') }}
basketball
Edit
Howland previews TAMU
Ben Howland met with the media Tuesday afternoon ahead of Mississippi State's upcoming contest with Texas A&M.
When asked about the Aggies, Howland described their team as very talented.
"When you look at their team, everybody's back with the exception of two guys," Howland said. "They beat us down there a year ago and handled us pretty good. We had a good team and were playing really well at that time. They finished incredibly strong a year ago."
Howland also elaborated on pieces of A&M's roster.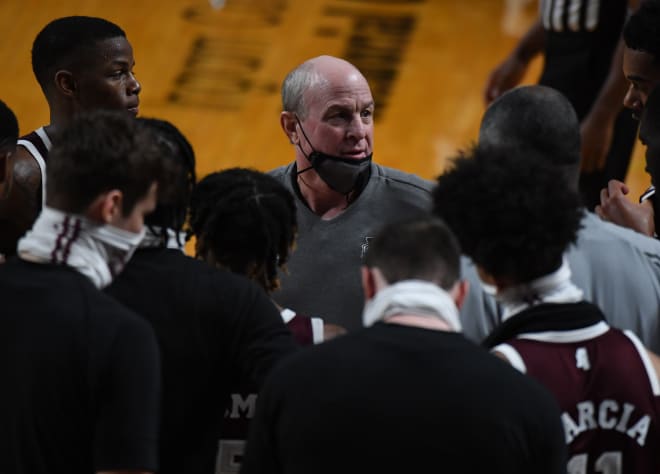 "When you look at their talent, Savion Flagg had been in a shooting slump from three, and in this last game against Tennessee on Saturday, he makes four threes in that game. He's a good player. [Emanuel] Miller is a really good player; he's one of the leading scorers in our conference. You could see that when he was a freshman, I thought, 'that guy's really good, where's he from?' Quentin Jackson's played very well against us, as has [Jay Jay] Chandler. He's a good player. I really like Andre Gordon. They've got good pieces."
Howland went on to describe some of the ways they play basketball and their particular strengths.
"They're a very hard team to score against in that they're so help-conscious. They're very much in the gaps. When you drive the basketball, you're gonna have three people on you, not one. So, you're gonna have to have really good spacing and get the ball moving to be able to penetrate and create help and put up, not try to over-penetrate because it would turn into turnovers. They're also trying to be more aggressive with their press to create steals and create offense out of some of their defense."
Howland was asked about the team's recent success and what he does to keep his team from getting too complacent.
"A lot of that comes from the veteran leadership on our team," Howland stated. "I don't know how we could be complacent. Obviously, we haven't given that any thought. We've had so many close games that could've gone either way. We're down 14 in the 2nd half against Missouri. We're not just crushing people or winning by 15 in these games. Saturday [against Vanderbilt] was an incredibly close game down the stretch. We had a great chance to win against Kentucky in a close game. Even against Georgia, which we played very well on the road, the game got close there in the last few minutes, so I haven't even given that any thought. It's a continued routine that we're in to prepare for each game and play your very best and keep our guys healthy, both on and off the floor."
Mississippi State (8-4, 3-1) will face Texas A&M (6-4, 1-3) Wednesday night at Humphrey Coliseum, tip-off being at 8 PM central time.