Grindin for My State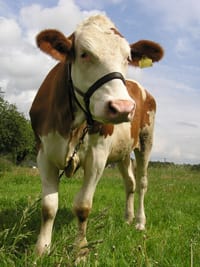 I have been a professor at State for five years. I grew up about twenty miles from campus. At age five, I put Bully on my birthday cake. I say this not to impress you with my State credentials. I say this to put in proper perspective the point of this column.
In my 37 years as a Mississippian and as a Bulldawg, I have always been frustrated by a sense of insecurity on the part of Mississippians and Bulldawgs. We have an inferiority complex and always have. I think this is at the very root of why Mississippi is last on all the good lists and why Mississippi State has lost a lot of football games. I think it is why Starkville is not the SEC town that it needs to be.
Though we don't like to admit it, somewhere deep down we just don't believe in ourselves - State of Mississippi or Mississippi State. I want to devote my life to changing this.
I have been "grindin' for my state" since I could walk. But I never put those words to this passion and obsession until I met a young man named Anthony Dixon. I had the pleasure of being one of Dixon's professors. With four simple words he branded forever this my cause. I believe that with four simple words, and even though he probably doesn't realize it, Dixon began what I like to call the Cowbell Revolution.
Mississippi State stands at a place unique to its history. State is in better shape now than it ever has been in every aspect and despite budget cuts. We are in a good place not just because of Coach Mullen and the fact that we are winning football games, though that plays a huge part. We are in such a place because of Mark Keenum and Scott Stricklin and dozens of other leaders like them, be they faculty, student, or alumni.
We have changed the culture. We have started to believe in ourselves. We cannot lose this momentum. Even if we start losing football games. I am confident we have turned a major corner in Starkville. Thanks in significant part to the efforts of the triumvirate of Keenum, Stricklin, and Mullen. But also because we are grindin' harder than ever before.
In 2009 we played Kentucky at Lexington. Anthony Dixon had a monster game and broke a record or two. When he walked off the field as time ran out - a smile ear to ear - a Fox Sports reporter shoved a microphone in his face. I cannot recall word for word the exchange, but it went something like this:
REPORTER: Anthony Dixon, what a game! You broke a few records tonight! Were you just feeling it out there?
DIXON: Yeah, I was pushin' it. I'm a senior. I want to go out with a bang. I promise I do. The records are what they are. I am not concerned with that. I enjoy having fun with these guys. I love my team. This was a team effort. I just want to do my part. To the best of my ability. I'm just out here grindin' for my team. I'm grindin' for my State. I'm just trying to do what I can.
After I saw that, I got a bit teary. I thought that this was a gorgeous and profound moment. I began to think more and more about it. Anthony Dixon, I decided, represented all that was good about this University. He represented all that was good about this state.
Here is a guy who at one point in his life was homeless, living in a car with his mother and brothers. Despite that, he ran all over Terry High School and Mississippi State University and loved that he had the opportunity to do so. He never once got bitter about his upbringing. He never once got mad at the state whose history played a role in leaving him homeless at one point in his life. While he certainly watched the more fortunate around him thrive and excel.
And at the height of his collegiate fame, what does he do? He takes the attention off of himself. Beyond that, he says "I'm grindin' for the state of Mississippi". I get a little teary just thinking about it.
The year Coach Croom beat Alabama in Starkville, he gave a press conference. He said something to this effect:
"Anthony Dixon could have played football wherever he wanted. But he came here. I am determined to honor that. I want to give him and these boys something to be proud of. All they got in these towns is a stop sign and a funeral home.
But they love Mississippi. Mississippi is their home. I'm tired of them not having anything to be proud of. This football team, this university, can do more for the state of Mississippi in three hours than a politician could do in thirty years."
And to that I said AMEN.
I am determined to carve into the stone of Mississippi State history and folklore the phrase GRINDIN FOR YOUR STATE to represent us as much as a cowbell or a bulldog or Jack Cristil.
What does it mean "to grind"? Grindin' simply means to work hard and to have pride, respect, and honor in the thing you are working for. It of course has meaning that pre-dates today, but its Bulldawg connotation was born amongst guys like Dixon. Young black fellows who like rap music and sports. The young black community adopted the word and gave it its own meaning. And in so doing, I believe, created a perfect branding and personification of what being a Mississippi State Bulldawg is all about. We grind for our State.
We also grind for our lowercase-"s" state: the great state of Mississippi. We are grindin' for the state of Mississippi AND Mississippi State. Why? Because we are a land grant school. The foundational mission of the land grant college is service to the community. To take all that we learn in this university and not be content to bundle ourselves up in the Ivory Tower, but to help folks and be real and honest and true. To put people out in the world who grow, build, make, invent, create things, and help bring honor to Mississippi. To give folks some sense that this dirt we walk on is what really sustains us. We must honor that and be proud of it.
We are the people who grow the food and build the buildings. We are the farmers, the scientists, the engineers, the schoolteachers, and inventors. The stewards of the land. We are also the stewards of mankind, of all our fellow Mississippians. Mississippi State has the highest percentage of black student enrollment in the Southeastern Conference. That is something to be proud of. State folks are a big family like no other collegiate family I've known. A family who loves each and every one of us, just like Jesus said to do. The next time you go to the Egg Bowl in Oxford and some drunk frat boy hollers "Moooooooooo" at you like a cow, here's what you should say: Hell Yeah. Damn Right.
We grind because we are Mississippi's university. Eighty percent of our student body is from Mississippi. Up the road they can't say that, and that's fine. I understand the business model they are going after. They want to be Virginia. Which is good, I think, for our state. But while TSUN is off in the stratosphere chasing their dream, we must be aware that what we are is a land grant school in Mississippi and our dream is based in this great big beanfield we call Starkville, Mississippi, and in this cow college we call Mississippi State University. We are the People's University and we are honorable, good, and true.
We don't just clang a cowbell for the sake of clanging it. We clang it because it is the very heart of who we are. The reason State and Ole Miss don't like each other- the very root of the rivalry- is not in any football game. The root of it is in the people and the land. And in that Bell.
Over a century ago in Oxford, they didn't want to teach things like science, engineering, and agriculture. Ole Miss was run by Yale and Harvard folks, intent on preserving it as a classic liberal arts haven for the elite. This is not to say that there is not great value in that type of education. Absolutely there is. But in a land grant we believe we must complement that education with a more applied, pragmatic education of thinking as well as DOING.
They didn't want us in Oxford, so we came to Starkville and built our good name by serving the People as agrarian stewards and military defenders of the land. And they began to make fun of us. They called us Bookfarmers. Meaning that we were poor folks for the most part, not real farmers like the planters in the Delta with their sharecroppers doing all the work. We were Bookfarmers, just learning how to farm in books. I love that name. I have it written in big block letters right above my office door so that every one who enters my office will see it and ask about it. And a lot of them do. I am proud to be a Bookfarmer.
Scott Stricklin and I have discussed for a while this "grind" concept and its relevance to our mission at State. I would love it if we could have a video on the Jumbotron next season that will get "Grindin' for My State" out for public consumption. The mantra has reached cult status on campus to such an extent that it simply demands to be taken from campus to the alumni population at large. I am absolutely convinced it is the tie that binds all State people--sure as any cowbell.
In this video, I imagine a portion of it like this: a scene of an old hillbilly at an ancient grist mill in a time long past, grinding corn and wheat to feed the People, with some great piece of music and a deep voice building anticipation. Then cut to a scene of Anthony Dixon running over four defensive backs straight into the end zone. And then the deep voice saying at the end, God-like:
"Mississippi State University: Grindin' for our State since 1878."