Croom set to announce Thursday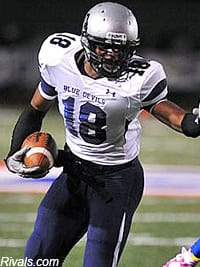 Jason Croom
wanted to make his college decision before his senior year kicked off.
The four-star wide receiver from Norcross, Ga., is cutting it close but plans to announce his commitment Thursday afternoon just hours before the Blue Devils open their season against Dacula.
"We get out of school at 2:10 so I'm just going to head down to the field house and get my ankles iced before the game," Croom said. "Then I'm going to go in the conference room and have the little conference. We only get like 15 minutes for that and then I'm going to get focused for my game. My whole thing was to go ahead and get it out of the way. I didn't rush on my decision, I'm just ready to get it over with."
Croom has picked up offers from Arkansas, Auburn, Connecticut, Florida State, Georgia State, Illinois, Louisville, LSU, Memphis, Miami, Michigan, Michigan State, South Florida and Southern Miss but has narrowed his list down to two finalists - Mississippi State and Tennessee.
Croom took unofficial visits to both of his finalists during June.
He is one of the top remaining targets for the Bulldogs and would be their highest rated commitment thus far in the 2012 class.
"Mississippi State has been there from the beginning of the whole recruiting process," Croom said. "Auburn was my first offer but Mississippi State was my second one and I've stayed in contact with them. I have a connection with them. I just stay in contact with a couple of the coaches there. Their receivers coach (
Angelo Mirando
) is a cool dude. They said I could come down there and play early and they run a spread offense."
While Croom himself has kept in contact with MSU, it's his mother who has built a strong relationship with the Vols coaching staff.
"I just liked (Tennessee) when I went down there," Croom said. "They seem like a good coaching staff. They seem like they are ready to get it going. I know they play freshmen early down there. I think at one point they were all freshmen. They run a pro-style and my mom's been in contact with them throughout the whole time ever since they were able to send me mail as a 10th grader."
The 6-foot-5, 212-pounder stated that he has already reached his decision but will wait until Thursday afternoon to announce.
Last season, Croom had 30 catches for 506 yards, and four touchdowns helping lead Norcross to a 10-3 record and into the second round of the Class AAAAA Playoffs before dropping a 34-24 decision to eventual state champion Brookwood.
Croom is hoping a switch to a spread style offense is just what the Blue Devils need to spark their own state championship run.
"Practice is going good," Croom said. "I think this is the best we've been since 2006 when we won a region title. We're moving into a spread. Of course I'm going to love that. Everybody has bought into it and we can run the ball if we want to. We've got a great running back."
Thursday night's season opener against Dacula should give Croom and his receiving corps an early test in their new offense.
"On defense their secondary is a little bit bigger," Croom said. "But I don't think it will affect us because all four of our receivers are good. If they try to double team me then they are going to leave one of the other three receivers open."
Croom is rated the No. 21 prospect in Georgia and the 43rd best receiver in the nation by Rivals.com