Black: Bulldogs late rally shows toughness of Howland's team
It was a must-have.
In a rollercoaster season, highlighted by strings of wins then bombarded by head-scratching losses, Mississippi State had an opportunity to right the ship against a talented, ranked Alabama team.
This story has been written before. Saturday night, Humphrey Coliseum, with a shot at a massive win. Many times in the Ben Howland era, the story didn't end well. Tonight, however, the story ended differently.
Mississippi State took down the 24th-ranked Crimson Tide of Alabama, 78-76.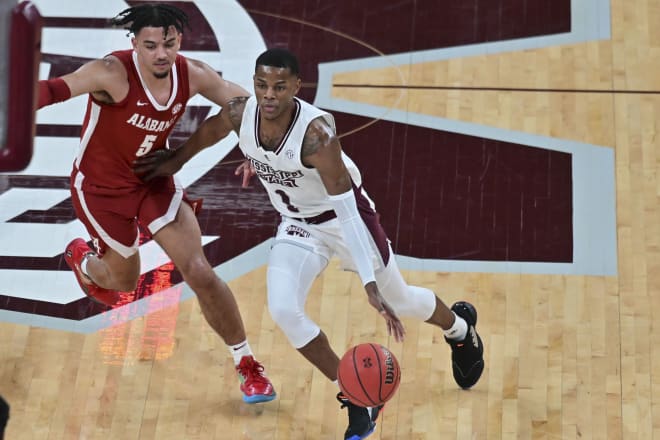 "I'm so thankful and so happy for the way the fans got behind our team today," Ben Howland said. "This was a huge win for us in terms of putting together the NCAA resume that we're trying to do so we can get into the tournament."
The game was a back-and-forth affair from the tip with State playing scrappy basketball. In the first half, the Bulldogs couldn't hit a three to save their lives—going 0/6—but they drove in the paint and got contact. State was fouled 26 times in the game and hit 28 total free throws. They faced a four-point deficit at the half, but MSU's 13 first-period makes from the charity stripe kept them in the game.
After falling behind by five the second half, State rallied back to snatch the lead and fought the rest of the way. Under six minutes to play, they held on to a slim advantage and were able to hang on for dear life. Every time Alabama cut the lead, MSU would extend it.
The toughness and tenacity of this team were on full display in the final minutes. Up a point with five minutes remaining, after a Garrison Brooks missed jumper, Andersson Garcia snatched the offensive rebound and got the two points. Up two with under three minutes to play, Shakeel Moore missed a three, but Iverson Molinar got a bucket off a Cam Matthews offensive board.
Down the stretch, when they have faltered in the past, these Bulldogs rose to the occasion.
Iverson Molinar had one of his best performances in the maroon and white, totaling 24 points and six rebounds. Garrison Brooks put together a double-double with 16 points and 10 boards, while Shakeel Moore was right behind him with 15 points of his own—including going 9/9 from the free throw line.
Humphrey Coliseum was the stage for Mississippi State's biggest opportunity of the season. It was a chance to cast off questionable losses and to boost State's prospects for making the NCAA Tournament. It was a must-have for the Bulldogs and Ben Howland.
They got it when they needed it. It was a great win for Mississippi State.