A lifelong dream come true for Hughes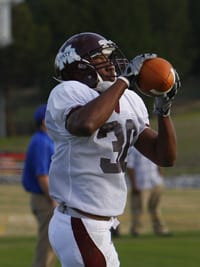 This week is one that
Jay Hughes
has been waiting on for a long time.
As the son of an assistant coach, Hughes has been around college football his entire life and now after a redshirt season, will finally suit up to play in his first career game Thursday against Memphis.
"After all the developmental workouts with (Matt) Balis, when I redshirted, to two-a-days, this is just what I've been waiting on," Hughes said. "It's a chance to step on the field and show everybody what I can do."
But Hughes will not be lining up at the same position he practiced at in 2010. Instead the 5-foot-11, 185-pounder made the move from cornerback to safety in the offseason which he hopes aides his chances to see the field more this fall.
"They sold it to me pretty good," Hughes said. "They told me I was going to be running with the twos and that just increases my chances to get onto the field. At the same time I actually kind of like the move because when you're playing safety you have a little bit more freedom to roam around. At corner you've got to protect the rail, play man, got to run all over the field. I think it was a good move for me."
Of course the secondary move puts Hughes under the watchful eye of his father, MSU safeties coach
Tony Hughes
.
"I was always kind of close to him playing corner but now I'm right there in the meeting room with him," the younger Hughes said. "It's okay. I get tired of seeing him sometimes (laughing)."
Hughes and the Bulldogs have been preparing to face Memphis' new spread offense this week. The Tigers made the conversion from the pro-style sets they ran last season but seeing the spread will be nothing new for State's defense.
"I know they've got some big receivers," Hughes said. "I think what they are going to do is run a lot of screens, quick game and empty. It's stuff that we always see from our offense."
The Bulldogs lost their defensive coordinator
Manny Diaz
following last season but Hughes stated that he has not seen much of a change since
Chris Wilson
took over the reins this year.
"It didn't change at all really," Hughes said. "Coach Wilson is doing a good job of keeping everything the same. I think that's why our defense is going to be so good because we've been in the system for two years."
Hughes came to Starkville as a three-star athlete out of Oak Grove High School in Hattiesburg, Miss. During his senior season, Hughes rushed 143 times for 856 yards and four touchdowns. He also caught eight passes out of the backfield for 62 yards and lined up at quarterback completing 8-of-13 passing for 121 yards, no touchdowns and two interceptions.
Hughes also returned two kickoffs for 32 yards helping lead Oak Grove to an 11-3 record and into the inaugural Class 6A state title game against South Panola. He was named second team All-State and was considered the No. 24 prospect in Mississippi in 2009.
The now redshirt freshman had scholarship offers to Auburn, Duke, Louisiana Tech, Ole Miss, Southern Miss, Tennessee, Tulsa, Vanderbilt and West Virginia but has been happy with his decision to be a Bulldog.
"I get a lot of heat for that people asking me 'why did you go to Mississippi State when you had all these offers?'," Hughes said. "I'm a Mississippi boy at heart and I didn't want to go nowhere else and get lost in the shuffle. I knew Mississippi State would take care of me and that's where I felt the most comfortable at."