Nick Bell passes away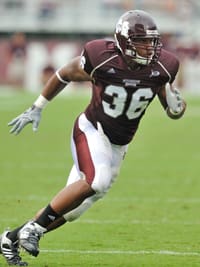 STARKVILLE, Miss. - Mississippi State redshirt sophomore defensive end
Nick Bell
passed away Tuesday afternoon, doctors at UAB Medical Center announced. Bell, 20, battled cancer since a diagnosis earlier this fall.
Bell played in 16 games for the Bulldogs, earning four starts. Bell played in the first four games of the 2010 season, and started against Auburn and Georgia. He recorded 22 total tackles in his career, including seven this season. He was credited with one tackle for loss in the season opener against Memphis and another against LSU.
The Mississippi State football team was informed of Bell's passing at a team meeting on Tuesday afternoon. Several members of the team had travelled to Birmingham to visit with Bell and his family on Monday evening. Local clergymen and professionals from the university's Student Counseling Services Office will be brought in to meet with grieving members of the team.
Funeral arrangements have not been announced by the family at this time, but the Mississippi State Athletic Department will establish a memorial fund for the Bell family through the Bulldog Club. More details will be available online at www.MStateAthletics.com and donations can be made by calling 662-325-3074. The department will also deliver messages and cards sent to the family. The Athletic Department mailing address is PO Box 5308, Mississippi State, MS, 39762.
Head Football Coach Dan Mullen
"This is a tragedy for Nick's family, our football program, our community and everyone who had the privilege to meet and be around Nick Bell. Nick was a son and a brother to our football family and I know he will continue to look over us from heaven. Nick lived his life like a champion and will always be remembered in our hearts that way. During this impossible time, we pray for Nick's family and all those he has touched."
Megan Mullen
"There are few people in the world who have the unique ability to light up a room - Nick was one of those extraordinary individuals. Every single one of us in the Bulldog football family is a better person for having Nick in our lives."
Dr. Mark Keenum, Mississippi State University President
"Rhonda joins with me and Bulldogs everywhere in expressing our sympathies to Nick Bell's family, teammates, and friends during this difficult time. Nick was an outstanding young man, who proudly represented our university with character and enthusiasm in everything he did. He was an exemplary student athlete, always giving the maximum effort on the football field and in the classroom. Nick left us too soon, and we mourn his passing, but we also celebrate the impact he made and fondly recount the many lives he touched in our Bulldog family."
Scott Stricklin, Director of Athletics
"Words can't express our sadness. Nick was a model student-athlete - special in the classroom, on the field and to those whose lives he touched. My thoughts and prayers go out to his family, his teammates and his coaches. He will be missed by the entire Mississippi State community and our athletic department family."